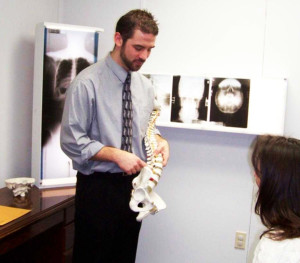 At the Risner Spinal center, we are dedicated to providing the highest quality chiropractic care available. We provide chiropractic adjustments for a variety of problems. Using state of the art technology, Dr. Risner will evaluate the body's balance, function, and problems. Postural analysis is done using the Anatometer. A computerized analysis using thermographic/temperature studies, surface EMG/muscle tension studies, and a heart rate variability study are all done on new practice members.  Whatever x-rays are deemed necessary would also be taken. Dr. Risner believes people should know what they're dealing with and what is necessary to correct any problems he finds, so a detailed report would be given so the practice member can make an informed decision.
The Risner Spinal Center is also a Science Based Nutrition office providing the best in nutritional analysis and support. Dr. Steve is a certified wellness coordinator and his experience has helped him care for a variety of problems nutritionally ranging from infertility and diabetes, to chronic wide-spread pain and high cholesterol. Weight loss and heart health as well as correcting hormonal imbalances and correcting digestive disorders have been accomplished using this strategy.
And since Dr. Risner is a firm believer in prayer, he would be happy to simply pray for you as well.